The consultation appointment:
We always arrange a consultation with customers ahead of the actual tattoo appointment (if you want to make an appointment right away, please click here).
During this first meeting, you can tell us exactly what you would like, and we will offer advice, let you know what is possible and what is not (in terms of implementation, how it will look over time, etc.) and will try and work with you to make your plans reality. Please bring ideas for the following topics to this meeting:
Design
Size
Which body parts are preferred
Ideally you can also bring templates so we have a good idea of how the tattoo should look, and what style you would prefer.
We generally make individually designed motifs according to the wishes of our customers. Apart from that, there are always so-called "wannados" (designs which we drew according to our own ideas). What we do not have is a catalogue with designs to look through. We are committed to making the designs we tattoo as unique as possible. It is absolutely fine to be inspired by other tattoos/drawings/photographers, but we do not make copies of existing works.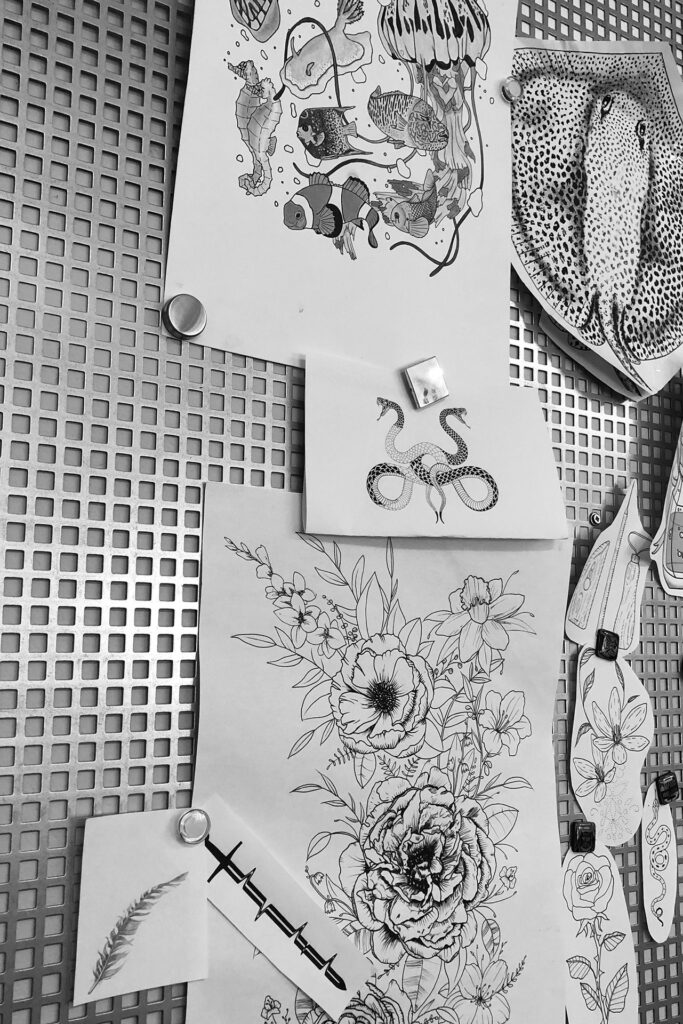 Once we agree on the design, and you agree with our cost estimate, then we can immediately decide on a tattoo appointment. The waiting times are very different and depend on the size of the tattoo. For a small tattoo, you'll have to wait between one and three weeks on average, while bigger and more complicated designs need more preparation time, which means that the waiting time can be one to two months.
We will ask for a down payment for the appointment, which is usually between 50 euros (for smaller pictures), and 200 euros (bigger or more complex tattoos).
This completes the first step, and we will see each other again at our first appointment. You can always contact us in the meantime if you have any questions.
The tattoo appointment:
Any possible regulations due to the corona crisis will be announced on the front page.
Please come to our appointment well-rested and after eating enough so your circulation is boosted.
First we have another discussion where we inform you about the possible complications that can result from getting a tattoo (such as allergic reactions, infections, the possibility that the colour cannot be removed, and so on), inform you about aftercare, and get your official permission for the tattoo work. We are happy to answer any of your questions on the subject. When everything has been discussed, we can talk about the size and placement of the tattoo and adjust it if needed. For tattoos which include text,  this will be the time where we ask you to check the writing very carefully again, to make sure that there are no typos or spelling mistakes.
After we have cleaned, shaved and disinfected your skin, we will apply a stencil of the tattoo. The stencil is an exact copy of the design, which is applied in reverse with a blueprint onto a thin, transparent paper either with a printer or by hand. We use stencil fluid for the transferral, which makes sure that the lines of the stencil stay on the skin for as long as possible and remain "readable" for us. If you do not have a lot of experience with tattooing, we are happy to explain each of our steps to you in person.
When this is all completed, we will start tattooing. You can tell us anytime if you want to take a break to relax briefly, get a sip of water, or go to the bathroom. Do not be shy about this, even if we are working intently, you can interrupt us to make sure your physical needs are met.
As soon as we are finished with tattooing, then we will clean and disinfect the wound, apply a sterile foil dressing or a plastic wrap and explain again exactly what you need to do to care for your new tattoo.